SIG SAUER M18 COMMEMORATIVE FOR SALE
The limited release of the M18-Commemorative Edition of the official U.S. military service pistol, a variant of the SIG SAUER P320, is now available. The M18-Commemorative pistol shares the same components, coating, and markings as the firearm that was awarded the U.S. military contract for the Modular Handgun System (MHS), and is now in service with all branches of the U.S. Military.
The M18-Commemorative is a 9mm, striker-fired pistol.  The pistol features a coyote carry length grip module, a coyote-tan PVD coated stainless steel slide with the same optic cut as specified by the MHS contract, the original coyote-tan colored controls, an ambidextrous manual safety, and is equipped with SIGLITE front night sights and removable night sight rear plate.  The M18-Commemorative ships with two 21-round magazines and one 17-round magazine and is sold in the same cardboard packaging as delivered to the U.S. Army.
The SIG SAUER M18-Commemorative pistol features a unique serial number ranging from M18-0001 through M18-5000.  Upon registration of the M18-Commemorative pistol, the purchaser will receive an official certificate of authenticity and commemorative challenge coin, both with serial numbers matching the purchased M18-Commemorative pistol. Sig Sauer M18 Commemorative For Sale
Display and protect this uniquely collectible firearm in a custom Collector's Case available at sigsauer.com/store. The case is a solid cherry box, with a dark mahogany stain, a tempered glass top, a brushed nickel latch, and a keyhole back for optional wall hanging.The collectors' case features a slate-grey flocked foam insert with an affixed SIG SAUER logo, and precision laser placement cuts for the M18 pistol, certificate, and included challenge coin. Get your collector's case today. Sig Sauer M18 Commemorative For Sale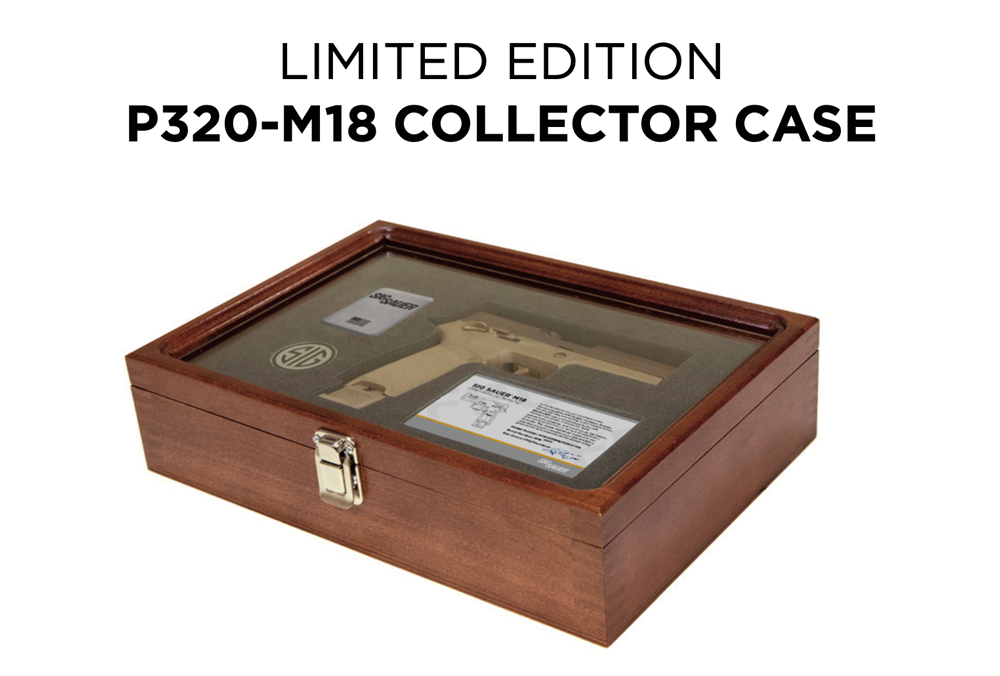 Stainless steel, Coyote Tan, PVD-finished slide
Coyote PVD controls
Removable night sight plate on slide
Carry-length grip module
Siglite front and night sight rear plate sight
Reliable striker fired trigger
Ambidextrous manual safety
Anti-corrosion internal coatings
Unique, serialized commemorative coin and certificate
Includes one 17-round and two 21-round magazines